---
It's getting harder to remember when CNN was a viable option for truthful  information and straight  reporting. Back in 2005, when Anderson Cooper was wearing boots and standing in flood waters, we knew for sure he was in New Orleans, although we weren't sure then how much HAARP had to do with Katrina.
But these days anyone with a shred of integrity, fairness, or common sense clearly understands that during the run up to the 2016 presidential election, CNN blatantly stood for the Clinton News Network. The subterfuge and fake news reporting has taken a toll on CNN's ratings, says World Net Daily.
This graph, provided by internet research firm Yougov.com, clearly shows CNN's viewership had  significantly tumbled below MSNBC from November 2016 through February 2017. CNN is the red line. MSNBC is in black and Fox News is in blue.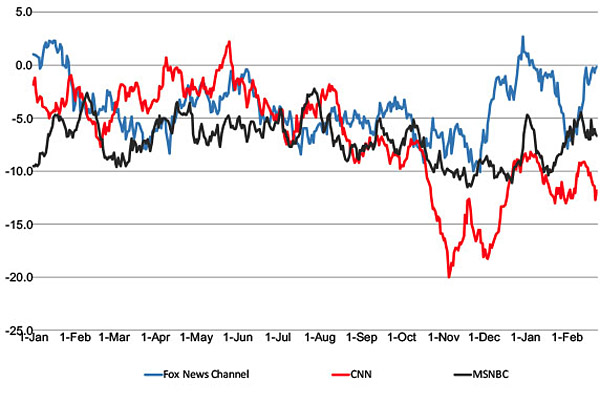 Yougov.com's Ted Marzilli says that that CNN's downward spiral really got in gear in "mid-October 2016, around the time Anderson Cooper interviewed Melania Trump, notably discussing her husband's famous 'Access Hollywood' tape."  And around that same time, after a Republican campaign office was vandalized in North Carolina, CNN suggested that "Trump's rhetoric spurred the incident."
World Net Daily also reminds us of a few other transgressions willingly committed by CNN. For example, Trump was purposely misquoted. The Democratic National Committee (DNC) colluded with CNN on a number of occasions, like asking the DNC what kinds of questions they should ask when preparing for Trump interviews. Paid political analyst and former DNC Chairwoman Donna Brazile leaked CNN's debate questions to the Clinton campaign. When a WikiLeaks email exposed this, at least CNN had the fortitude to fire Ms. Brazile.
After Trump was elected President, but before the inauguration, CNN put together a truly heinous video that described what might happen if Trump was assassinated before he took office. As reported by Dailycaller.com, since CNN couldn't convince Americans that the Russians hacked the election, or used other fake news to thwart the ascendance of Donald J. Trump, they "openly fantasized about the incoming administration being killed en mass."
As reported by Zerohedge.com, James O'Keefe of Project Veritas recently released over 119 hours of audio recordings given to him by a disenchanted CNN employee who was upset with the "perpetually biased reporting of the "fake news" media outlet." The audio is from 2009 and was secretly recorded in the Atlanta CNN offices. In some of these recordings, it is clear that CNN is blatantly misrepresenting polling data.
When President Trump spoke at the Conservative Political Action Conference in late February, 2017, he was quick to point out the lack of CNN's integrity when it came to their polling data as his battle with the fake news network continues. What's comforting, as CNN's numbers continue to tumble, is that millions of Americans are simply turning it off and finding alternative media outlets that aren't afraid to publish the truth.
RELATED: Keep up with what's real at Newsfakes.com.
Sources: