05/17/2017 / By News Editors
---
Some days it's slow news, some days Chelsea Manning gets released from prison while the CIA-funded Washington Post fans the flames of more Russia nonsense, the New York Times pushes more Syrian war propaganda insisting that Assad is literally Hitler, and evidence finally surfaces of Seth Rich's connection to WikiLeaks. Julian Assange recently forecast a Niagara-like deluge of leaks following FBI director James Comey's sacking by the Trump administration, and if today's revelations are a taster of the meal that's coming, you'd better not fill up on bread.
(Article by Caitlin Johnstone republished from Medium.com)
Fox News has just corroborated with its own source a story that broke yesterday about a report from former DC homicide investigator Rod Wheeler, who has been working for Seth Rich's family as a private investigator looking into the former DNC staffer's murder. Both Wheeler's sources and Fox News' assert that Rich had been in contact with WikiLeaks leading up to his death, which casts the official story of his murder being the result of a random mugging into serious doubt for anyone who isn't a glue-huffing imbecile. The Twitter accounts of both WikiLeaks and Julian Assangehave been tweeting about this story as well, if you needed a bit more convincing.
So that's a thing now. Until today, Seth Rich was someone you just weren't allowed to talk about, like Voldemort or the Rothschilds, but no more. The days when we could be called crazy conspiracy theorists exploiting a man's death for political gain and upsetting his grieving family are officially over. The police would not be holding onto his laptop if this were some random mugging; we all know what this is. We're allowed to talk about Seth Rich now, but the Washington Post wants us talking about Russia.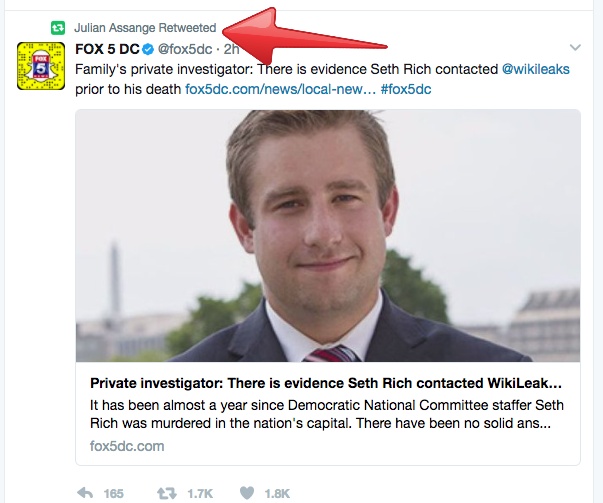 The Washington Post, if you need a refresher, was purchased in 2013 by Jeff Bezos, who as the fifth wealthiest person on planet Earth has billions upon billions of reasons to want to maintain the status quo that has made his extreme financial dominance possible. That same year, Bezos was awarded a $600 million contract (more than twice what the Post cost him) with the Central Intelligence Agency, a conflict of interest which Bezos' paper to this day never discloses per universal journalistic protocol when reporting on US intelligence. Prior to the purchase, Bezos had proved his loyalty to America's unelected power establishment by booting WikiLeaks from Amazon's computer servers in 2010. Since the purchase, WaPo has become the single most virulently pro-establishment outlet in the top-tier corporate media, as well as a preferred outlet for leaks from the CIA, and has been shamelessly lying about Russia ever since the 2016 elections.
So I think it's understandable if people want to take it with a teensy weensy grain of salt when this glorified CIA trade rag tells us that anonymous sources say Donald Trump is colluding with those darn Russians again. In fact, I think it's understandable if, knowing what we know about the CIA's massive surveillance systems, we all found the timing of this release to be highly suspicious. After all, the fact that it's getting harder and harder to dispute that the DNC emails WikiLeaks published were indeed a leak and not a hack does put a major damper on the "Russia hacked the election" narrative that corporate propaganda outlets like WaPo have been hammering the American consciousness with day in and day out since July of last year. Seth Rich being the leaker effectively kills the entire Russian hacking narrative, and thus the entire Trump-Russia collusion narrative that was built upon it, and thus all the manipulations which were built upon the collusion narrative. Could the CIA have known in advance that this propaganda-killing narrative was about to hit the airwaves? Of course. Would they have wanted to distract America in order to ensure the continued manufactured consent for escalations with Putin and regime change in Syria? Yes. Did they? Come on.
Read more at: Medium.com